Christmas story
Would we have recognized him ?
Would we have recognized him ?
True story. This event was organized by the Washington Post as part of an experiment on people's perceptions, tastes and priorities.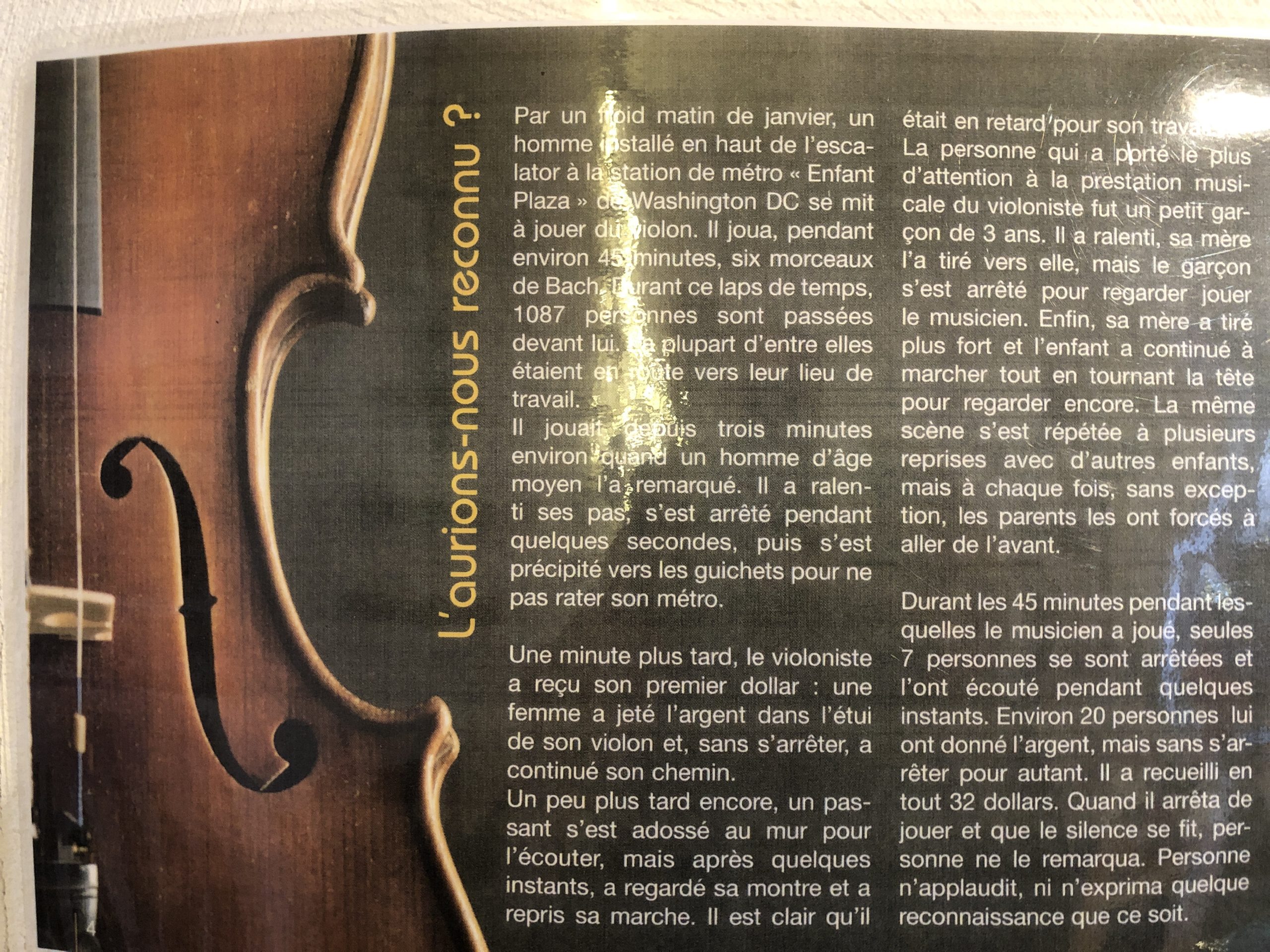 On a cold January morning, a man at the top of the escaIator at the Enfant Plaza metro station in Washington, DC, began to play the violin. He played six classical pieces for about 45 minutes. During this time, 1087 people passed by him. Most of them were on their way to work. He had been playing for about three minutes when a middle-aged man noticed him. He slowed down his steps, stopped for a few seconds, and then rushed to the ticket booths to not miss his subway. A minute later, the violinist received his first dollar: a woman threw the money into his violin case and, without stopping, continued on her way. A little later, a passer-by leaned against the wall to listen to him, but after a few moments, looked at his watch and resumed his walk. It was clear that he was late for work. The person who paid the most attention to the violinist's musical performance was a 3 year old boy. He slowed down, his mother pulled him toward her, but the boy stopped to watch the musician play. Finally, his mother pulled harder and the child kept walking while turning his head to watch again. The same scene was repeated several times with other children, but each time, without exception, the parents forced them to move on. During the 45 minutes the musician played, only 7 people stopped and listened to him for a few moments. About 20 people gave him the money, but did not stop. In total, he collected $32. When he stopped playing and there was silence, no one noticed. No one applauded or expressed any gratitude.
No one knew it, but the violinist was Joshua Bell, one of the best musicians in the world. He played some of the most difficult pieces ever written for the violin that day, on a 1713 Gibson Stradivarius worth $3.5 million. Two days before his performance in the subway, Joshua Bell had played to a sold-out crowd at a Boston theater where the average seat cost $100. The story is true. Joshua Bell did indeed perform incognito in a Washington DC metro station. The event was organized by the Washington Post as part of an experiment on people's perceptions, tastes and priorities. The question was:
 In an ordinary environment, at an inappropriate time, are we able to perceive beauty? Do we stop to appreciate it? Do we recognize the extraordinary in an unexpected context?
One possible conclusion to this experiment might be that if we are unable to take a moment to stop and listen to one of the world's greatest musicians playing one of the best pieces of music ever written, how many other riches are we missing in our lives?
Another conclusion should lead us to reflect on the fact that only the children really sought to stop and listen to the virtuoso. Why? Because they still possess the gift of wonder. This gift that we progressively lose as we become adults. Will we find it again, become children again, dare to take the risk to stop and recognize beauty when we come across it?
From an article published on the Internet

If this article inspires you and you wish to discover a larger spiritual dimension, contact us for a first appointment.